How to Start a Hosting Company in 2021: Server, WHMCS, TLD
How to Start a Hosting Company in 2021: Server, WHMCS, TLD

Written by Davide Mantenuto
Back
Posted on 29 may 2020 / Updated on 9 january 2021
Reading time 10 minutes
Reasons you should start a hosting business
People start a hosting business for many reasons. Web agencies, developers and IT professionals all need to manage websites for customers. This includes entrepreneurs interested in jumping into this market.
Whatever your reasons are, you face many questions. In this article we try to help clearning doubts giving answers. Keep in mind there isn't a complete step-by-step guide for such a huge topic. After all, we're talking about starting a hosting business in a hyper-competitive market.
You must be willing to learn and put lot of efforts in research. You also need a business plan, a budget and to stay close to your root. Be humble. You can't compete with providers like GoDaddy with deep pockets. Don't try to be competitive with price. Focus on building a brand and find the niche you love.
We're not in a position to give business advices to anyone. There are plenty of books and professionals that can help you with that. Here we want to focus on technical details. There is no secret ingredient in starting a hosting business. You need to review and choose from a list of tools and partners.
This guide is not intended for those with big budgets and infrastructures. The target are small and medium-sized enterprises with little experience in hosting industry.
Control Panel for Hosting Provider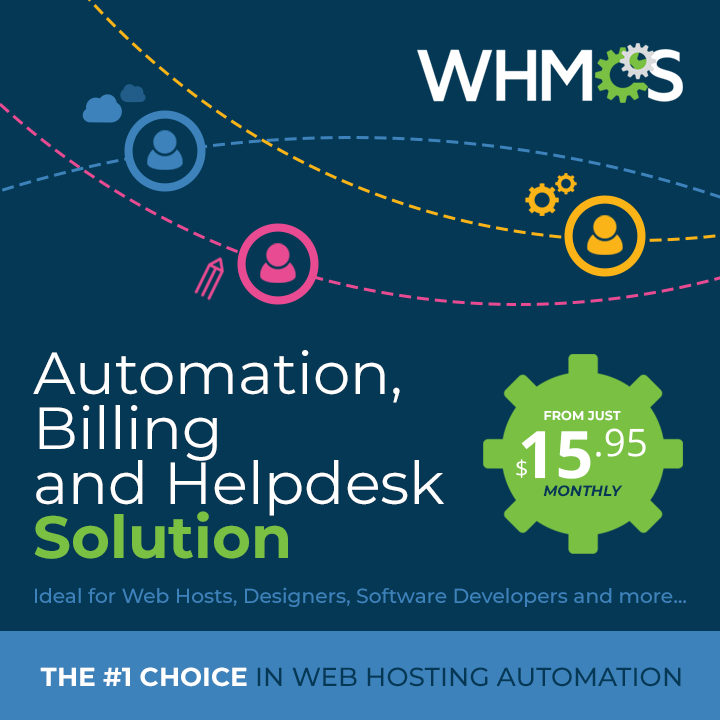 WHMCS is a control panel for web hosting businesses. It offers an all-around platform that is highly extensible. It stands out the best quality/price ratio. Competitors like HostBill, Blesta and ClientExec don't offer the same value for money. WHMCS also has the largest community which is ideal for beginners.
You can buy WHMCS for only 15.95 $ per month. You can get it for lower price from resellers but more on that later. Learn to use it. We wrote an extensive article on the most common mistakes to avoid in WHMCS that can help you.
WHMCS covers all the aspects of your hosting business.
It is the CRM (Customer Relationship Management) where customers interact with your company. They register, place orders, send payment, request support and download invoices.
It is also the place where you manage and configure products/services and domains. It keeps all your servers, registrars and integrations functional and automated.
WHMCS already integrates hundreds of third-party services. We have tens of payment gateways and registrars ready for use. There are a wide variety of server modules (eg. cPanel, Plesk) and external services like Cloudflare but it doesn't stop here.
It can also accommodate custom needs to let you sell and automate any product and service. For example we use WHMCS to sell softwares. Others use it to host radio stations, game servers, VoIP and internet connections. It is commonly used for consulting, webinars and products for Public Administration.
Website for Web Hosting
WHMCS by default can't fulfil the function you would expect from a CMS like WordPress. It is very limited in this area. Not only it lacks tools for content creators, but WHMCS SEO is very poor.
Many try to overcome this weakness by installing a CMS like WordPress, Joomla or Drupal. You're best to stay away from this kind of solutions. Having two systems to maintain and a WHMCS integration is not nice as you would expect.
It's much more easier and cheaper to directly use WHMCS as CMS. This is possible thanks to Mercury, a module we developed to transform WHMCS into a complete CMS. Everything will feel more integrated and manageable.
Web Hosting Billing Software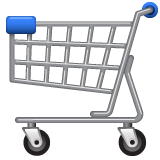 There's no need to buy an expensive software to tackle the billing requirements of your hosting business. WHMCS integrates a billing platform adaptable to many scenarios. It delivers PDF invoices, processes invoice generation for recurring services and sends reminders. Moreover it supports multiple currencies and billing cycles.
That said, as a billing software WHMCS doesn't go too well. Some aspects in fact are sketched, missing or buggy. The good news is that we solved all the issues developing a billing module for WHMCS but we didn't stop here.
The module offers extra features that every hosting company need. We have credit notes, monthly invoicing, electronic invoicing and VIES. There are also Facebook Pixel, customer retention, a system to archive PDF invoices on FTP and much more.
Web Hosting Control Panels
Finally let's make some hosting. The simpliest method for managing servers is to use a web-based control panel. There are many options available that could be confusing. We make it simple for you.
Below we list the most popular web hosting control panels integrated with WHMCS. This way you can enjoy automation and support resellers. They also offer user-level interface (used by customers to manage their sites) and server management.
| Panel | Summary |
| --- | --- |
| | cPanel is the best panel the money can buy. It comes packed with lot of extras (notably Cloud Linux). The use of command line is very rare since everything integrates in the GUI. It works on Linux. |
| | The most popular panel with the highest market share is Plesk. It runs on both Linux and Windows. It is ideal for beginners since its interface is simple and nice to use. |
| | DirectAdmin is one of the cheapest options. It is a lightweight control pannel that works on Linux. Here you'll find all the basic features. It uses very little server resources so it is quick at running tasks. |
| | InterWorx is inexpensive but has shortcomings. First off it works on specific Linux OS and for some operations the use of use command line is still required. |
Beatles or Rolling Stones? cPanel or Plesk? Everybody has his or her opinion. Personally I had direct experience with cPanel, Plesk and DirectAdmin. I would recommend them in this order. Feel free to choose the solution that suits you best.
The next step is finding a partner. More precisely you need a hosting provider that can offer you the following:
VPS or a reseller plan with your chosen web hosting panel
Technical support in case you are not a system administrator
There's no need to buy any license from publishers. Most of the times VPS costs include web hosting panels. Generally they're are very cheap. Bigger providers may even offer licenses for free since they benefit volume discount pricing. This could include the cost for WHMCS license.
We would like to stress the importance of being humble because we know how it goes. As soon as you get your hands on the server, you start creating dozen of hosting plans that will never sell. In the long run they also makes things difficult to maintain.
Simply put, don't let us see things like hosting XS, S, M, L, XL, XXL, Plus, Premium, Special... Or the same plans multiplied for every CMS you know. This is one of the common mistakes to avoid in WHMCS. Overchoice increases the difficulty of people in making decisions. All you get in return is lose sales.
Domain Name Registrars
Unless you want to become a domain name registrar, it's time to find another partner. This time we need a registrar that registers and transfers domains for you. It is worth to say that most providers are not registrar themselves due to the high costs involved. As a reference, to become a registrar for .it domains one must:
Pay one-off initial 2.200 euro + VAT
Pay for acccreditation (300 euro + VAT)
Deposit 4.000 euro + VAT
Pass an accreditation test and sign a very rigorous contract
That's not only expensive but also complicated. As if it wasn't enough, you should go into a similar process for all other TLDs. Now that it's clear that accreditating as a registrar is not a viable option, let's go back to finding a partner. In essence we're talking about becoming domain resellers of another registrars.
Before start digging into this topic, ask yourself if you value ease of use over higher income. Let's see if we can make some sense out of this statement.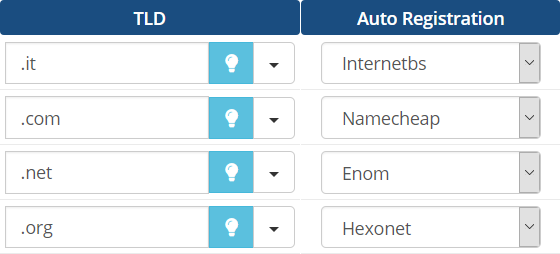 As you can see from the above image, WHMCS allows to use multiple registrars in the same time. This way each TLD can be set to use the registrar that grants you higher profit. For example you could register .com and .net with X, .it with Y and so on. That said, if you choose this approach, there are some downsides to consider.
First off, the very fact that you rely on multiple registrars means that you have to deposit funds in each of them. Generally the minimum deposit is 50 euro plus fees but you can't really operate with such a small budget. It's a question of a couple of orders before you run out of money. Second, not all registrars offer the same features. This approach grants higher profits but makes things a little complicated.
As opposite, sticking to one registrar is easier but you can't look for the lowest price. Anyway it is worth to say that having all domains in one registrar, may unlock volume discounts.
The table below shows the most popular options that are compatible with WHMCS.
| Registrar | Summary |
| --- | --- |
| | We've been using Internetbs a lot and we have nothing but nice things to say. Good prices, solid integration with WHMCS, reliable support and an extensive documentation. |
| | On paper eNom should be the best registrar. It has a partnership with WHMCS that grants access to exclusive pricing and features. In reality prices are in line with market but they also charge 5% for every deposit. It also has annoying limitations that make it looks like a golden cage. |
| | Then we have all registrars based on LogicBoxes platform. They are all the same but differ for pricing. To be frank, I dislike LogicBoxes interface since it seems to come from the 90's but that's my opinion. ResellerClub is the first option. |
| | We are still in LogicBoxes. NetEarthOne that is another valid candidate with competitive prices. |
| | Hexonet is the last born. Their support is good and they don't apply fees for payments. If you decide to use them, download their own module for WHMCS. It's free, unencoded, updated regularly and better than the one included in WHMCS. |
We also want to mention OpenSRS, Namecheap, Resell.biz and OnlineNIC. We can't say much about them because we had no direct experience but many use them.
Like we said for hosting plans, don't be in a hurry to sell all the possible TLDs. If your registrar supports 100 extensions, it doesn't mean that you have to sell them all. Focus on the most popular ones that don't need your manual intervention.
Some TLDs are in fact like wild horses. Premium and "exotic" extensions can work in ways you wouldn't believe. For example when it comes to renewals, some TLDs require "Renew" command while others automatically renew themselves without your intervention.
Hosting Agreement & Privacy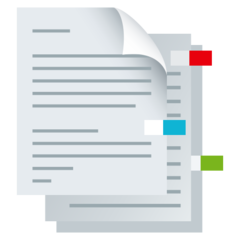 No one reads terms of service and privacy policies. It doesn't mean that you can start your hosting business without any rule.
What if you host a site that uses disk space as storage? What if someone uploads IRC bots, warez or Bitcoin miners? What about IP scanners, lottery sites and shady contents? That's why having written rules is important.
You can contact a legal writing service or use a terms of service generator. If your budget is low, you can create your custom terms starting from sample templates.
Keep in mind that when you start a hosting business, you host stites on a VPS that most of the time is owned by a third-party provider. That said, you need to be careful not to create a contract that is in contrast with the rules of your provider. For example if it doesn't allow porn sites, you can't welcome them in your VPS. Understaing what is allowed and what is not is crucial.
Then we have privacy policy that must include your business name and contact information. If your name is Mike Tyson and your company is GoDaddy, both names must be included as "Data controller". Many are reluctant in doing so because they don't want to show their names and address for privacy.
That's exactly the point privacy policy. You can't collect personal information and in the same time refuse to say who you are. If you do that, your contract's void and worthless. Fines are around the corner.
Promoting Hosting Business
Your WHMCS is up and running with your hosting panel and registrars. Now you have to promote your site and find customers. Begin with your friends and ask for feedback then you can try other routes:
As you become more experienced, you could find interesting our free collection of action hooks for WHMCS. You can use the provided snippets to grow and expand your hosting business further.
Speak Your Mind
Cancel Reply