Reducing the number of Invoices
Reducing the number of Invoices
Reducing the number of Invoices
Reducing the number of Invoices

Written by Davide Mantenuto
Back
Posted on 31 january 2018 / Updated on 19 may 2020
Reading time 3 minutes
WHMCS Billing
One of the biggest problems with WHMCS billing is that it issues an enourmous amount of invoices. Let's us put it into perspective by supposing we have a customer with services set to expire every day of the year. WHMCS will issue an astonishing number of 365 invoices on a yearly basis.
This was an extreme example but any hosting provider has customers purchasing products/services and registering domains whenever they need over the course of the year. WHMCS fails to understand that issuing so many invoices represents a problem for businesses.
Invoice processing is a labor-intesive process that requires employing workers. If you're still using paper invoices you're definitely incurring tangible costs. You also need to include the cost of paying people to organize, print and record bills. Then we have infrastructure costs that applies also to electronic invoicing.
Billing Extension helps modern businesses reducing the expensive and unnecessary costs of invoice processing by reducing the number of invoices. This is also a "green" process that reduces energy consumption and saves trees. Let us present to you our new billing modes.
OneInvoice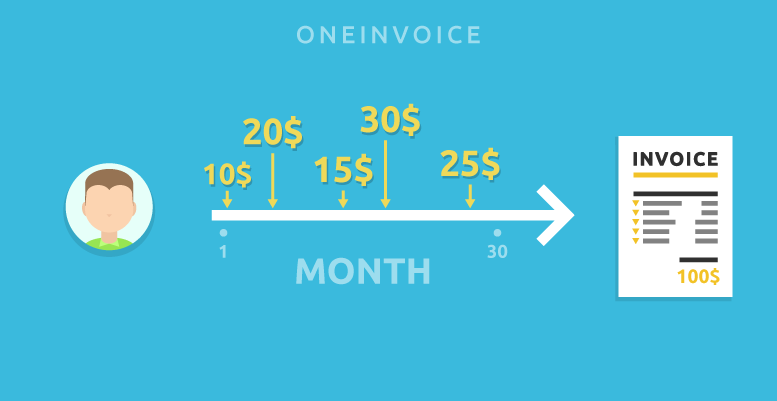 Monthly invoicing has finally arrived in WHMCS. OneInvoice allows to issue monthly invoices meaning that annually it generates a maximum of 12 invoices per customer (months with no expiring services are "skipped").
Customers keep receiving proformas but Billing Extension prevents them from turning into invoices. All details about payments, items, products/services and domains are recorded to postpone the creation of a single invoice at the the first day the month.
Let's say that on January a customer paid 5 proformas. Instead of receiving an equivalent number of invoices immediately after payment, he receives a consolidated invoice the first of February.

In summary:
Monthly invoicing
Multiple payments
Renewals work normally
OnePayment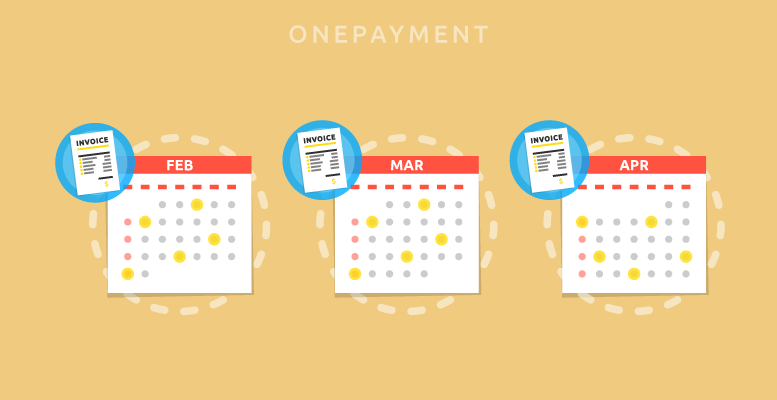 OnePayment extends the concept of OneInvoice to payments allowing to issue monthly invoices and receive monthly payments from customers. Receiving monthly payments is important for the following reason.
Let's suppose you have 500 customers with the same setup (5 services 50 euro / month each) and that your payment gateway fees are 2.4% + 0.35 euro per transaction. At the end of the year here is the comparison between standard WHMCS and OnePayment.
| WHMCS | OnePayment |
| --- | --- |
| 30.000 invoices | 6.000 invoices (-80%) |
| 120.000 email reminders | 24.000 email reminders (-80%) |
| Transaction fees 46.248 euro | Transaction fees 38.050 euro (-18%) |
As you can see the number of invoices and email notifications has been reduced by 80% saving 18% in transactions fees. Now that you know the benefits of having monthly payments, let us describe how it works.
We are on January 1st and OnePayment sends a consolidated email reminder about all services, products, domains and addons that will expire next month on February. Customers have a full month to decide what they want to renew or cancel. If Enhanced Renewals is in use, they can clearly see it from sidebar.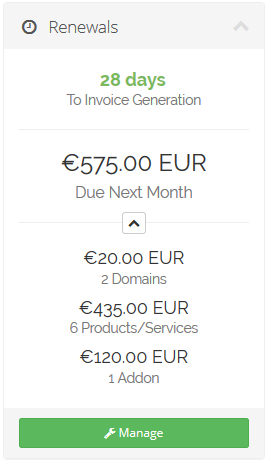 On the first of February, the system issues monthly invoices to let customers renew what is about to expire in the same month. In the mantime they also receive the consolidated email reminder about services, products, domains and addons that will expire next month on March.
Long story short, the first day of every month a customer:
Receives a reminder for what is due next month
Has a full month to decide what services he wants to keep or cancel and eventually add funds
Receives the invoice to renew what is due in the current month
The only exception to the "monthly invoice" rule, are new orders. For example when a customer places an order to register a domain, he will immediately receive the invoice. Starting from next renewal this specific domain will be included in monthly invoices.
For obvious reasons, OnePayment should be enabled when a customer has no "pending" invoices otherwise you risk to bill the same item two times.

In summary:
Monthly invoicing
Monthly payments
Simplified renewal process
Manual Invoicing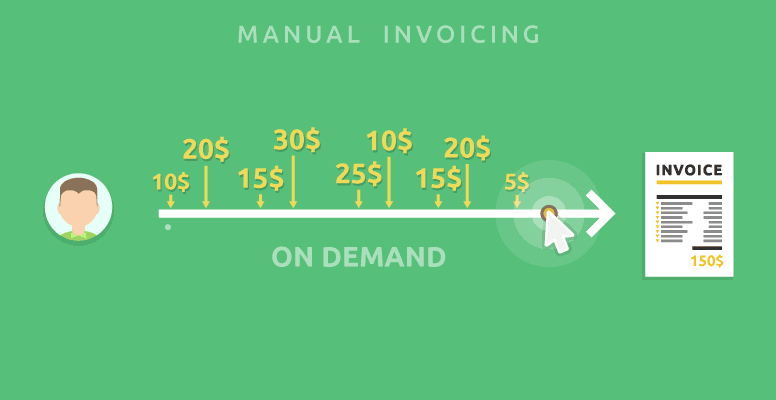 Manual Invoicing is an evolution of OneInvoice. As the name suggests, instead of issuing monthly invoices the first of the month, you can freely choose when you want to invoice, who and what specific items in one click from this interface.
You can also set warnings to make sure you don't postpone the issuing of invoices for too long. Such warnings can also be set for amounts and for the number of customers involved.

In summary:
Invoice "on demand"
Multiple payments
Renewals work normally
Icing on the cake
Starting from version 2.2.65, OneInvoice, OnePayment and Manual Invoicing can be used simultaneously both globally and for specific customers.
For example you can have default invoicing of WHMCS for all customers, OneInvoice for Mark and Sara, OnePayment for Paul and Manual Invoicing for David. This way you can meet customer requirements and promote long-term customer satisfaction.
Speak Your Mind
Cancel Reply