Allow Clients and Visitors to Comment on WHMCS articles
Allow Clients and Visitors to Comment on WHMCS articles

Written by Davide Mantenuto
Back
Posted on 5 july 2020 / Updated on 24 january 2021
Reading time 3 minutes
Increase Engagement in WHMCS
One of the best ways for a website to boost sales, is to build a community and drive more traffic. A system like WordPress shines at doing this but WHMCS doesn't help as it lacks CMS functionalities. That's why we use Mercury that lets you use WHMCS as CMS.
So far so good but you can't really build a community if there's no way for visitors and registered users to interact with you. The good news is that Mercury incorporates a commenting system that allows visitors and users to engage with your contents. Comments can be enabled selectively for:
That means you can have comments enabled for your blog but not for new and articles of documentation. It's up to you. You can get an idea of how it works by looking at our site that is based on WHMCS & Mercury and allows comments to any content.
Pro tip: learn how to improve your rankings with Search Engine Optimization for WHMCS.
Multilingual Comments
We can take as example the following post from our blog.
As you can see the post is available in english and italian. When we designed commenting system we didn't want to see comments in mixed languages. There's nothing more confusing than reading messages in multiple languages hence we managed to keep them separated.
Each post, news or article that comes in multiple languages, has a dedicated stream of comments, one for every language. You can see that by comparing looking at comments sections of both pages.
WHMCS Comments System Customization
You can define the minimum and maximum length for comments and set a "Tag" for members of your staff. When staff members reply to comments, they have a colored name, a badge and optionally a tag. Below you can see a preview - click to enlarge.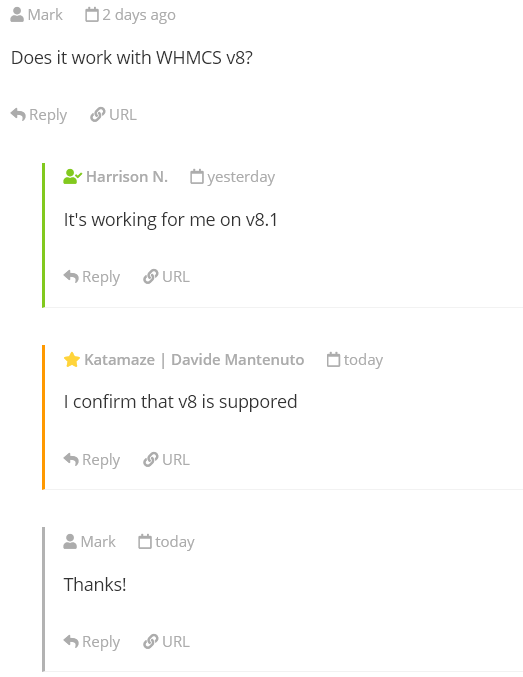 The image gives us the opportunity to show that the module supports 3 different user roles:
Visitors (more details in the next chapter) in gray
Registered users in green
Administrators in orange
Visitors Comments
Allowing visitor comments opens up a new model for communication but if you want yuo can disable this option and require registration. Visitors can comment only if they provide you nickname and email address.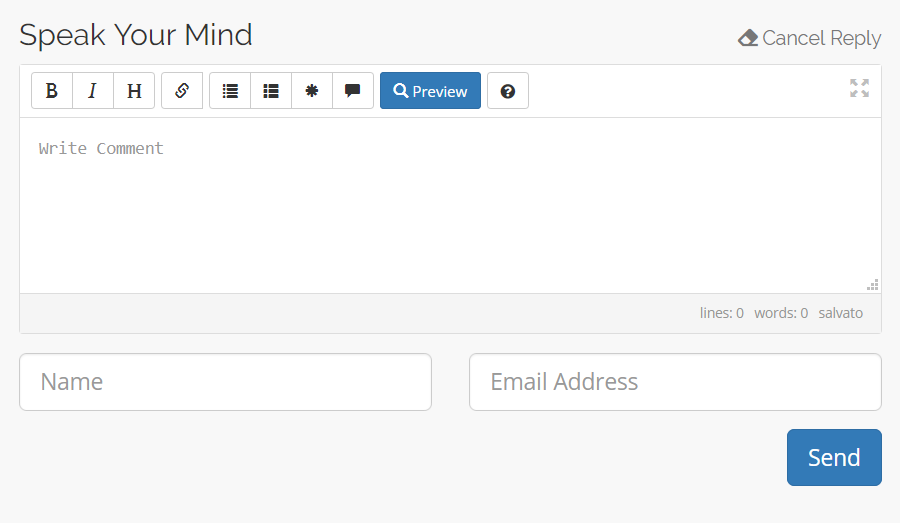 Comments Moderation
The module incorporates data validation, Google reCAPTCHA and Invisible CAPTCHA to protect your system from spam and bots. 5 character verification code is NOT supported as it is proven to be useless - any bot can bypass it.
In addition to such protections, there is moderation that can be used to prevent comments from appearing on your site without your express approval.
You can moderate comments individually by clicking the icon on the right. This opens a modal from which you can read the comment and proform one of the following actions: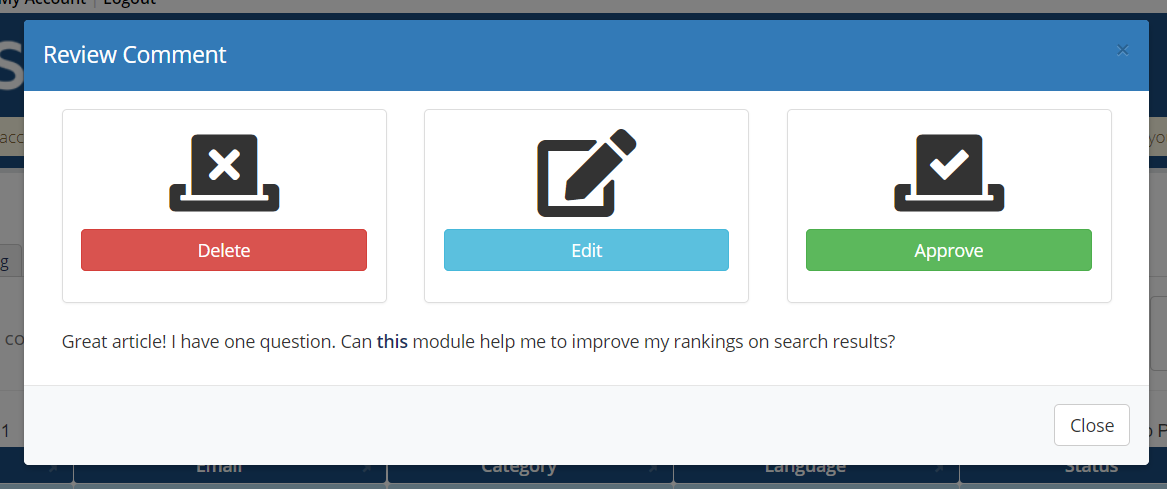 There's also an option to moderate comments in bulk. Click the cog icon at the top-right corner to enable Approve, Edit and Delete modes. We underline that:
Comments posted by administrators don't need approval
Deleting a comment will remove also replies to that comment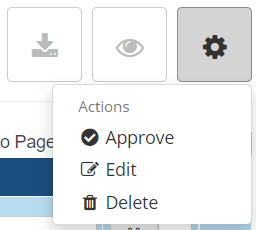 Content
We use MarkDown editor for comments. This way people can write easy-to-read and easy-to-write text (lists, bold, italic, links, code...). As for links, all external links (ones not defined in multi-brand and multi-domain) are automatically set as "nofollow" and open in a new tab.
Upcoming Features
There's still much to do and we plan to add the following features with next releases:
Possibility to "Like" comments, set nicknames and upload an avatar
Email notification when a reply is posted
Speak Your Mind
Cancel Reply