Facebook Pixel
Facebook Pixel
Facebook Pixel
Facebook Pixel

Written by Davide Mantenuto
Back
Posted on 26 september 2019 / Updated on 15 october 2019
Reading time 2 minutes
WHMCS Tracking
Starting from version
2.2.88
, Facebook Pixel has been integrated in 
Billing Extension
and is capable of tracking the following events.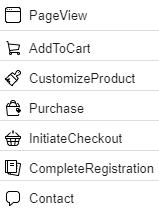 The good news is that it takes less than a minute to start tracking events. Begin by visiting Addons > Billing Extension > Settings and click the "+" icon to open Plugins page. Locate Facebook Pixel and activate it.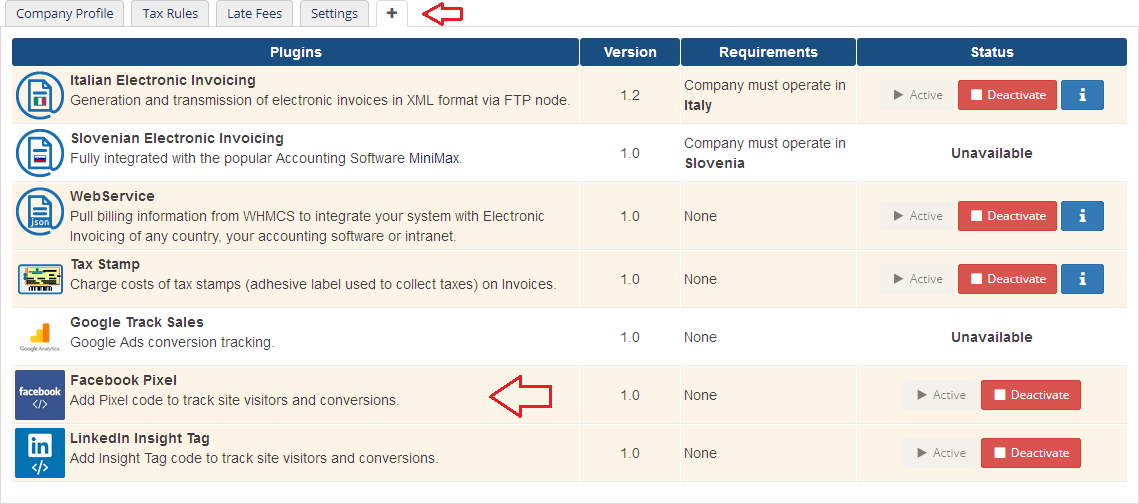 Once activated, go back to module's Settings and expand the newly added Facebook Pixel section to fill in the required fields. Pixel ID is mandatory and can be retreived from Business Manager. As for events, you can freely decide what you want to track. We suggest you to leave default settings to track everything.

Once saved, 
Billing Extension
will immediately start to send information to Facebook. Events usually have a delay of about 15 minutes that can vary depending on your budget and the amount of events generated per day therefore be patient and wait until they start popping up.
In the following paragraphs we're going to describe how every event works and what are the additional parameters that 
Billing Extension
transmits to Facebook.
Page View
Tracking page visits (a person lands on your website pages). No additional parameters.
Add To Cart
When a product is added to WHMCS shopping cart (a person clicks on Add To Cart button). Every time an item is added, 
Billing Extension
includes an additional parameter that allows you to determine the "pid" (WHMCS product ID) or extension for domains (eg. ".com").
Customize Product
When a person customizes a product/service or domain (a person selects Configurable Options, billing cycle, Additional Domain Fields etc.). Similarly to Add To Cart event, the "pid" (WHMCS product ID) or domain extension (eg. ".com") is included.
Purchase
When a purchase is made (a person places the order and lands on WHMCS "Thank you" page after payment). The following parameters are sent to Facebook:
Amount paid (eg. 183.60)
Currency (eg. EUR)
Products/Domains involved (es. product "pid" 3, 6, 7 and domains .com, .it)
Initiate Checkout
When a person enters the checkout process (a person clicks on Checkout button). Similarly to
Purchase
event, Initiate Checkout provides the same parameters. This event is particularly useful to track abandoned carts.
Complete Registration
When a client has used the register.php file to create a client account. Clients registering from cart.php or manually added by administrators are ignored.
Contact
When a person initiates a contact with your business via contact.php or submitting a ticket to a department that doesn't require login. The module includes a parameter that allows to determine if the contact triggered from contact us form or via support ticket.
Speak Your Mind
Cancel Reply