Issuing Credit Notes
Issuing Credit Notes
Issuing Credit Notes
Issuing Credit Notes

Written by Davide Mantenuto
Back
Posted on 26 october 2018 / Updated on 23 june 2020
Reading time 2 minutes
Introduction
Billing Extension offers 3 methods to issue credit notes:
The reason for this is that every company is subjected to different rules. Before describing the peculiarities of each method, keep in mind that "Refunds" and "Invoice Items" methods shouldn't be used simultaneously on the same invoice. Choose the option that better suits your needs.
Manual
You should use this method when you want to issue a credit note that has no correlation to an existing invoice. You can create the credit note from client profile (Invoice tab). At the top right corner you have find the following buttons. Simply press Create Credit Note.



Alternatively it is possible to convert an existing proforma into a credit note (or invoice). Begin visitig the proforma. Here Billing Extension adds the a new line named Document Type. Click the pencil icon to show the available options. Select Credit Note to transform the proforma into a credit note. Similarly you can transform it into an invoice.



Once the credit note (or invoice) has been issue, you can freely add descriptions and amounts.
Based on Refunds
This method allows to issue credit notes for refunds. Let's suppose that a customer sent you a wrong amount of money and that you need to reverse the payment or part of it. Begin by using the standard Refund feature of WHMCS. As you can see from the example below, we are refunding 5 euro manually (processed externally).

It is worth to say that Billing Extension doesn't allow to issue credit notes for refunds credited in client's credit balance. Once the refunding process is completed, the module shows a new panel.



Here we find all refunds that exist on the invoice. Use checkboxes to select the transactions for which you want to issue a credit note then press Generate Credit Note. The module automatically refresh the page to show you to the newly issued credit note that can be visited, downloaded and printed in one click.



Of course the credit note includes the reference to the related invoice.

Based on Invoice Items
This last method is the most used and popular. Select invoice items you want to refund then use the dropdown below to select Generate Credit Note. For more details, take a look at the screenshot below.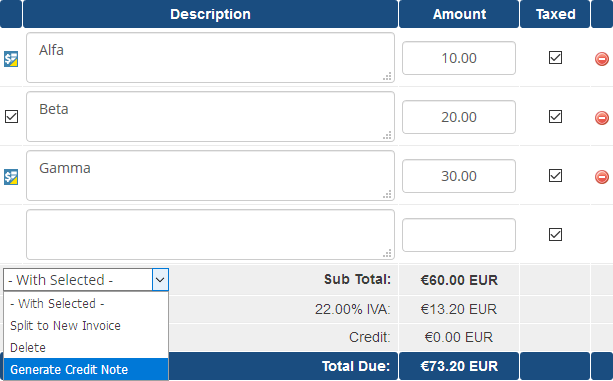 As you can see from this example, we are issuing a credit note for our "Beta" invoice items. "Alfa" and "Gamma" can't be selected (there's an icon in place of the checkbox). That's because these items has been already refudned in other credit notes. This feature also helps to make sure you don't issue multiple credit notes for the same item.
Leaving the mouse on the icon reveals additional details about the credit note "linked" to invoice item. Clicking on it redirects to credit note.
Speak Your Mind
Cancel Reply