Upgrading modules
Upgrading modules
Modules
are very easy to upgrade but we encourage you to read this article carefully. First we want to focus on don'ts since from time to time we see customers breaking their installations of WHMCS or losing data just because they upgrade in inexplicable ways.
Do not deactivate the module
. Module's deactivation has nothing to do with upgrade. It removes the module from your WHMCS and permanently deletes its data from database. To undo this operation you'll need to restore from backup.
Do not upload new files in fancy ways
. We've seen customers uploading files one by one, directories in wrong paths and clicking "No" when FileZilla asks them to overwrite files. If you don't overwrite files you are keeping outdated versions thus the upgrade took place.
Download
Begin by downloading the latest version from our website. Click
here
, select your module and click Manage button (requires login). You can see an example in the screenshot below.

Next page lets you download the latest version of the module giving you multiple download options depending on your PHP version. If you need help choosing the right package click
here
or
Help me choosing
visible from the screenshot below.

All downloads are safe. Files are verified multiple times per day automatically. For security reasons we won't share details.
Extract
Extract the zip you have just downloaded and open the extracted folder. It has the same name of the Zip. Now you should see the directory named
modules
. This is the one we need to upload.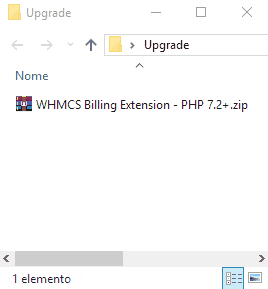 Upload
Use an FTP Client like FileZilla to upload
modules
folder to the root directory of your WHMCS. The root directory is the one with
configuration.php
file. When the overwrite confirmation prompt is shown confirm you want to overwrite all files.

That's it. You have successfully updated your module to latest version. If the module requires changes to database or in file structure it will perform all actions automatically.