Service Level Agreement
Service Level Agreement
Service Level Agreement
Service Level Agreement

Written by Davide Mantenuto
Back
Posted on 13 july 2020
Reading time 4 minutes
What is the SLA
SLA (Service Level Agreement) is the practice of providing guaranteed availability of specialists to solve any problem within a specified timeframe. In essence it is comparable to our 360° Support for WHMCS.

When we receive a support ticket from a "Free" customer, reply is not guaranteed. On the other hand customers with "Pro", "Business" and "Enterprise" plans can benefit guaranteed replies and interventions. Long story short, SLA is for customers who are willing to pay for increased safety, reliability and quickest support.
A well defined and typical SLA includes repercussions for service provider not meeting its commitement. For example if we are not able to meet the requirements as stated in the SLA, we refund 5% for each failure.
Setting Working Hours
In WHMCS all support tickets are the same. There's not way to handle SLA but the good news is that Mercury can do that. In the following chapter we're going to show you how to configure and sell SLA support. First thing first, navigate to Addons > Mercury > Settings and expand Support section where you have to define your:
Working days
Working hours
Holidays
For example we are open from Monday to Friday and work from 09:00 to 13:00. We take an hour lunch break and resume at 14:00 till 18:00. Then we have holidays (Christmas, national events...). To give you an idea of what you have to do, here's our configuration.

This part is important since SLA is based on timeframes hence Mercury needs to know your working hours. At the bottom of Support section there's an option named SLA Reminders. Here you should select staff members who play a role in answering to support tickets. Selected persons receive reminders and warnings about tickets that require quick intervention.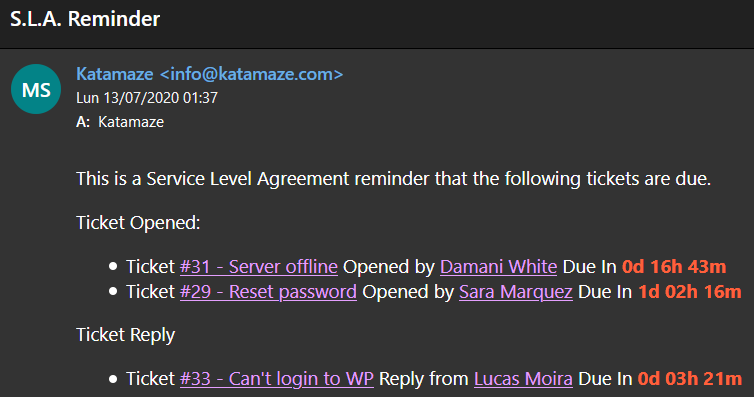 The image above shows an example of a reminder that Mercury automatically sends to selected members based on different criteria (more on that later). The email includes relevant information including a "countdown". This way hopefully your staff won't fail to meet the service level.
Creating and Selling SLA
It's now time to move to Setup > Products/Services > Products/Services. Create as many SLA products as you want. All it takes is a name, a description and of course pricing. Here's is an example of our "Business" SLA that costs 1199 euro monthly.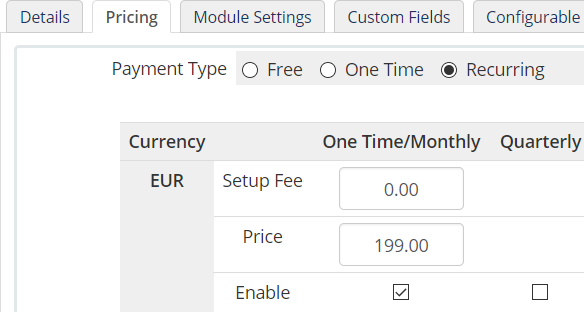 Customers can order this kind of product as normal from WHMCS cart. Now that the product exists, we need to make it "special" by transforming it into SLA. Go back to Addons > Mercury > Settings and open SLA tab. That's how we configured our "Business" plan.

Let's see what's the purpose of every option:
WHMCS Product is where we select the product previously created from Setup > Products/Services
Enable Outside Working Hours if SLA supports intervention outside working ours
First Response (mandatory) and Subsequent Reply (optionl) are self explanatory
Notify Every is set to 15 minutes meaning that "SLA Reminder" is sent every 15 minutes till all tickets have been completed
The Penalty (optional) is set to 5%. If we fail to respond twice, next renewal is 1079.1 euro (default price minus 10%)
Working with SLA
It's quite simple. All you have to do is respond to tickets before they expire. Pay attention to reminders and WHMCS Support Tickets page. We made a lot of changs to let you focus on tickets with SLA. Take a look at the following animated gif.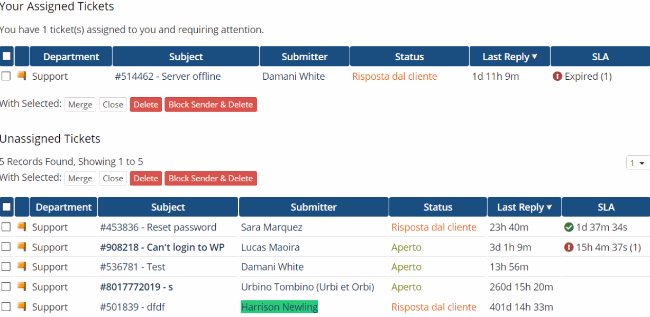 SLA Penalties
If penalties for failure to comply to service level are in use, Mercury refunds the customer directly on next renewal invoice like follows.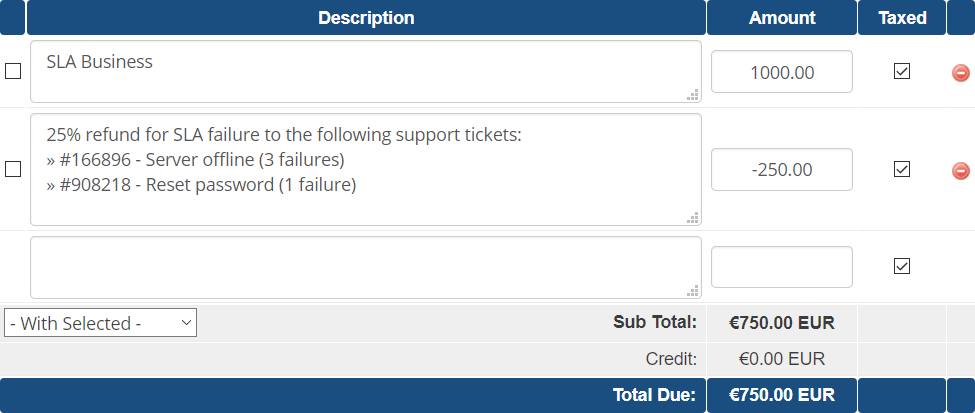 Frequently Asked Questions
Customers with multiple SLA
Customers can purchase multiple SLA but this scenario is not advisable since it doesn't make much sense. In case a customer has more than one service level agreement, Mercury bases all calculations and timeframes on the one with the highest recurring price.
Closed Tickets
The "close" event removes any obligation. This way you are not forced to reply to closed tickets. Let's suppose a customer adds a reply to thank you for solving the problem and close the ticket. In this case no reply is needed.
Penalties for old Tickets
Once a customer has a SLA, all tickets benefit guaranteed replies. This includes tickets opened before SLA purchase. Reminders, expirations and penalties indiscriminately apply to all tickets. Of course for old tickets you are responsible only for new replies.
About "Outside Working Hours"
To avoid any possible confusion, let us show you the difference between a SLA with Outside Working Hours (OWH) option enabled and disabled. Let's suppose you are open from Monday to Friday and work from 09:00 to 13:00 and 14:00 to 18:00. Your SLA offers guaranteed reply in 60 minutes.
| Ticket Open | OWH enabled | OWH disabled |
| --- | --- | --- |
| Monday @ 09:00 | Due within 10:00 | Due within 10:00 |
| Monday @ 12:50 | Due within 13:50 | Due within 14:50 |
| Friday @ 17:50 | Due within 18:50 | Due within next Monday at 09:50 |
| Chirstmas @ 09:00 | Due within 10:00 | Due within next working day at 10:00 |
Speak Your Mind
Cancel Reply