Embending Google AdSense in WHMCS Blog, News, Docs, Lab
Embending Google AdSense in WHMCS Blog, News, Docs, Lab

Written by Davide Mantenuto
Back
Posted on 24 january 2021 / Updated on 13 february 2021
Reading time 5 minutes
Google AdSense as Fast as Possible
Google Ads (formerly Google AdWords) is one of the most popular advertising platform responsibile of most advertisements that appear on websites. For anyone who is just starting a hosting company, there are two terms that could be confusing: Advertisers and Publishers. Let's look at what these terms mean.
What are Advertisers?
Advertisers pay to have their ads placed somewhere on the internet (Google SERP, YouTube and websites). They invest money to create a return of investment based on selling their products or services.
In the world of web hosting, you have probably seen plenty of them coming from providers like GoDaddy, HostGator, BlueHost but also from services like Cloudflare and Plesk.
What are Publishers?
Publishers are the other side of the coin. They provide advertising exposure which translates into traffic for advertisers and then sales (conversions). One can't work without the other.
Content Monetization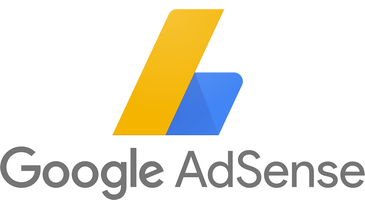 This article is meant for publishers and website owners that want to monetize their contents in WHMCS. Let us give you a little background information.
We have always worked as developers in the hosting world creating some great WHMCS modules but we are constantly evolving and learning new skills and techniques. In this regard, Search Engine Optimization has been a game-changer for us.
SEO allowed us to increase traffic by 462%. We weren't expecting such a big improvement in such a short period of time so we kept posting high-quality contents about WHMCS. Now, fast-forward to today and these are our copywriting statistics.
All of a sudden as we were ranking higher and higher on Google, we started receiving a lot of requests from providers, web agencies and bloggers about both advertising and guest blogging. That's how we decided it was time to display Google Ads on our WHMCS.
If you are confident of replicating our success story with SEO and copywriting, we have a great news for you. We put all our findings and knowledge in Mercury. This module for WHMCS integrates:
A complete CMS for WHMCS
Search Engine Optmization
Google AdSense
You'll find everything you need to start your own blog in WHMCS that will serve a double function:
Attract potential customers due to higher rankings on Google
Monetize on contents you write
Getting Started with Google AdSense
Google is very selective when it comes to approve new publishers. It wants to make sure ads display on websites that fullfill the E-A-T criteria: Expertise, Authority and Trust. Moreover it also requires you to follow all privacy laws.
Before you even think of applying to Google AdSense, make sure your website meet the following eligibility criteria:
You must be over 18 years of age
You must own and control your website
You must comply to AdSense Program policies
You must have Privacy Policy, About Us and Contact Us pages
Your site should be at least six months old
Your site needs sufficient traffic
Your content must be unique and interesting
Most of such requirements are "unofficial". You won't find them stated anywhere on Google's documentation but they have a weight. It is worth spending a few words on traffic and content.
You need at least 5k page views per month and a decent average session duration (2 minutes). Websites that can't produce such numbers can't generate much traffic for ads thefore Google tends to reject them.
The hardest-to-reach goal is content. Google looks for unique, interesting and high-quality content. You're not going anywhere with a couple of articles. Content length also plays an important role.
To give you an idea of what we're talking about, when we applied to Google AdSense we wrote a total of 124.034 words corresponding to 276 pages of an actual book. We're not saying you must write this much but you should have at least 10 lengthy articles.
Setup Google AdSense in WHMCS
Register on Google AdSense and retrieve your Publisher ID. You can find it from Account > Account information. It starts with ca-pub- followed by a sequence of numbers.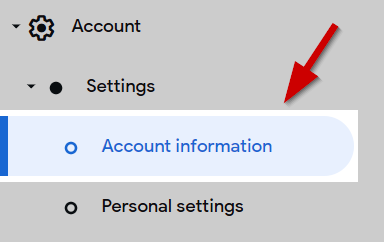 Then move to WHMCS and visit Addons > Mercury > Settings > Google AdSense. Enable Google AdSense, enter your ID in Publisher ID then wait. For some publishers the activation process can take a few days but can take up to 2 weeks.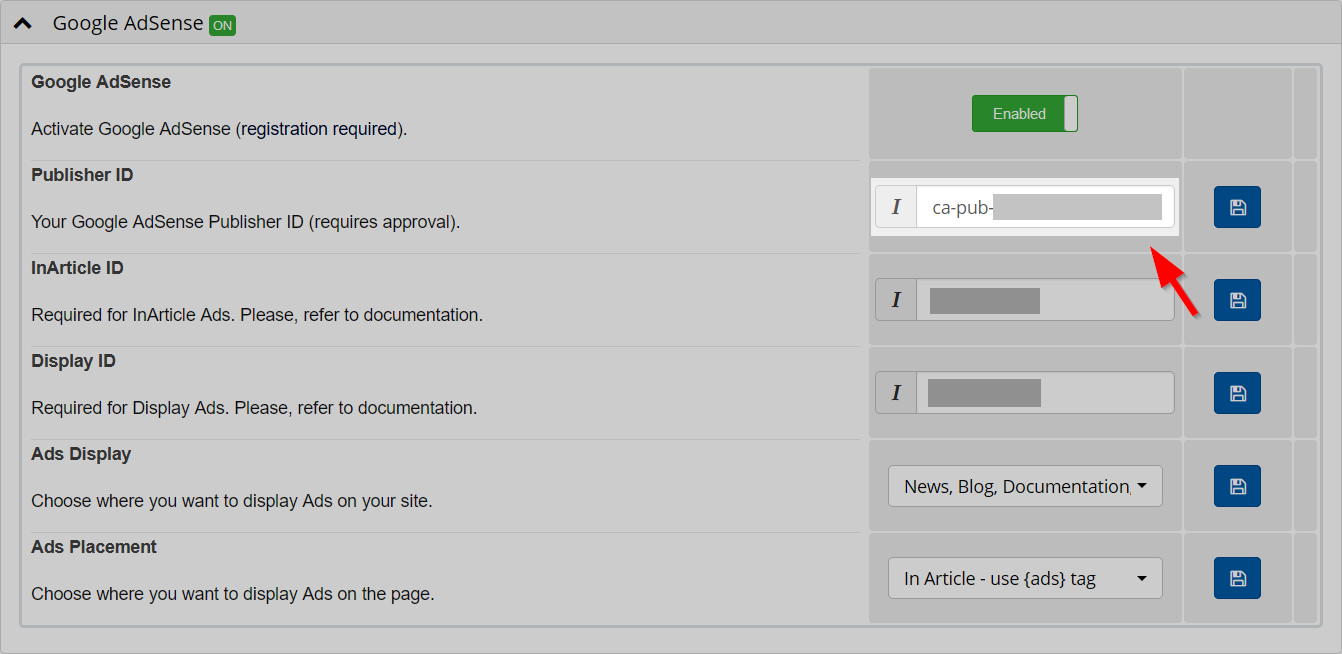 In our specific case we had to wait 3 weeks for Google to approve our request due to COVID-19. Bear in mind that Google can also reject your request. In this case you have to repeat the process from the start fixing mistakes.
Now that Google AdSense up and running, we need to place the ads on WHMCS. Let's go back to Google AdSense and open Ads > Overview.

Google provides a great feature that allows to automatically place the ads on your page with zero efforts (Auto Ads) but personally I don't like it. It messes up a bit the style of the website. If like me you want to control where ads are placed, keep reading.
From the navbar click By ad unit then select In-article ads as you can see from the screenshot below.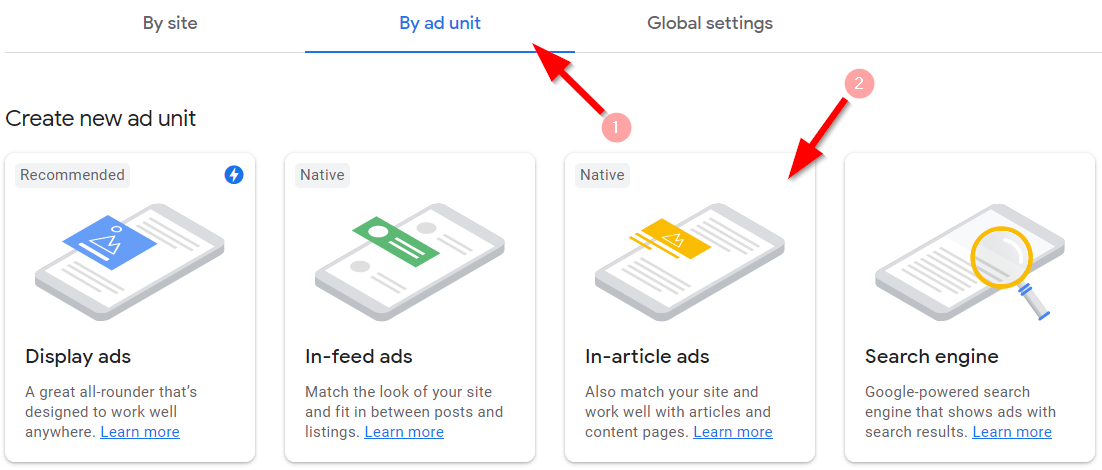 Set a name for Ad unit name and enable Google-optimized styles. This way Google automatically adapts the colors and fonts of ads based on your website. Once finished, click Save and get code that will popup the following screen.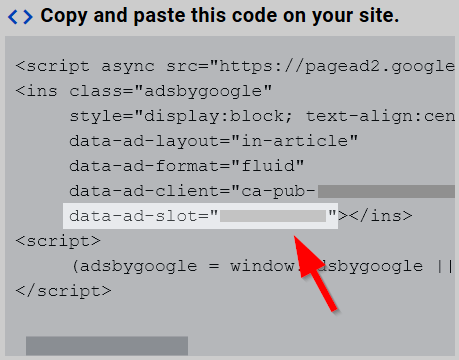 We don't need the whole code but just the value of data-ad-slot (a sequence of numbers). Paste this number in WHMCS Addons > Mercury > Settings > Google AdSense > InArticle ID and save. Let the magic begin.
Whenever we want to display an advertisement in an article, we use ads tag (between curly bracket). Mercury automatically replaces every occurrence of this tag with Google advertisements. This way you can control where ads appear in the article.
While there are no limits, it is essential to maintain a good balance between ads and content. You can't ruin user-experience putting more than 3 ads on a page with short content. We're still testing things but for now we're using the following rules.
| Content length | Advertisements | Placement |
| --- | --- | --- |
| Below 500 words | No | No |
| 500 words | 1 | Top |
| 1000 words | 2 | Top, along the page |
| 2000 words | 3 | Top, bottom, along the page |
| 3000 words | 4 | Top, bottom, 2x along the page |
| 4000 words | 5 | Top, bottom, 3x along the page |
Use Addons > Mercury > Settings > Google AdSense > Ads Display to define where you want to display ads. You can choose between news, blog, documentation and lab. In case you disable the display of ads on a section that was previoulsy in use, the ads tag will not show up.
Speak Your Mind
Cancel Reply