Translate Everything on the Fly from WHMCS Interface
Translate Everything on the Fly from WHMCS Interface
Translate Everything on the Fly from WHMCS Interface
Translate Everything on the Fly from WHMCS Interface

Written by Davide Mantenuto
Back
Posted on 9 january 2018 / Updated on 1 october 2020
Reading time 1 minute
We know the effort and dedication it takes to bring to your clients multilanguage contents of your website and how building strong relationship with them is important. With HereLang we've brought the concept of multilanguage to its highest peak making the task of content localisation easier and faster.

Forget about files that need to be edited with FTP, overlays and countless of copy and paste. You can finally focus on the writing process and move to translation on the fly without losing sight of what you are doing. You just need to find the small black icon with a globe inside.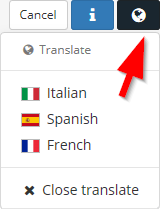 If in the page that you are adding or editing there is at least one filed that supports multilanguage, this precious icon automatically appears. On click you will find a dropdown menu that lists all languages you decided to support. By selecting any of the available languages HereLang highlights multilanguage fields and temporarily hides other fields in real time. In one click you are ready for translations.




On the left side of the page you have texts of default language always available while on the right side you have the currently selected language. When you finished your translation you can quickly move to another language or close the translation mode.

As soon as you save your changes, HereLang automatically provides to your clients localised contents. HereLang will use the default language when a specific field is not available in the language used by any of your visitors. HereLang has been integrated in all our modules.
Speak Your Mind
Cancel Reply