Follow up on Billing Extension
Follow up on Billing Extension
Written by Giulio Designer
Back
Published on 28 july 2018 / Updated on 21 january 2021
Reading time 3 minutes
Our new Billing Extension is on its way. We already talked about the many features coming in the refactored Billing Extension in this article, here is a follow-up of what we're developing now.

The latest features we added are somehow crucial, and will help you with some legal issues and possible billing problems.
Invoice Restrictions
WHMCS as default always allows the editing of invoices. this may seem easy and quite normal but could lead to serious troubles. What if you make a change after a client have already recorded an invoice from your company? Some countries are very strict on this point and if an invoice results inconsistent with the one you delivered to your client it can be illegal. That's why changes on Invoices and/or Credit Notes should not be taken lightly.





To help you avoid big troubles due to even accidental mistakes, we added a setting to restrict changes on invoices and credit notes.

Also, with this option on, a warning message is displayed on every non-proforma document (preview). Changes can be re-enabled on the fly, but should be used only if you're 100% sure that this will not cause issues.
Cookie Bar
As many of you probably know, when gathering information through cookies, users should be informed about the use of this data. EU Cookie Law requires that users explicitly consent the use of cookies, and that the relative policy is published on your site. That's where our cookie bar comes to help, we provide a simple way to make sure that users read and accept your cookie policy.

The "old" Billing Extension already handles this topic, but now we added some extra to its customization so that it can fit your site perfectly. From settings you can choose colors and position of the Cookie Bar to make the integration seamless, than set the link to your policy page and you're done (preview).
Contract Changes
Another matter that requires attention is the User Agreement. When users register to your site they accept the contract to become your clients, but this contract may change over time. The law requires that customers are informed of any contract change, so they can accept the new version or terminate the account.

The new Billing Extension has a setting for this, you can set your User Agreement page link and update its version (preview). Users who did not accept the current revision are prompted with a message that will let them read the new Agreement and accept it. The accepted version is stored for each customer, so everytime you update your contract users are informed at login.

Beside this, there's an integrated mailing system to cover all the users, even those who cannot be informed directly since they didn't login to your site for a long time.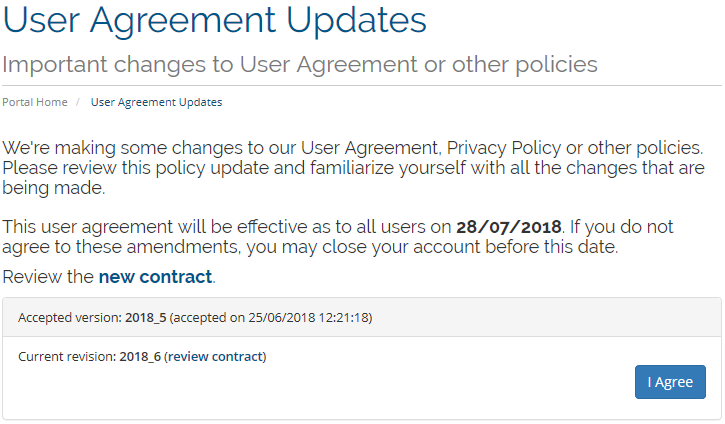 New Billing page
There's a new page in the Billing Extension admin area, the Billing page. This page is essentially a recap of all the payments already received, groped bu client, that still need to be invoiced. You can search through these pending payments by both client name and line items, to find anything within seconds (preview). From this page you can manually generate an invoice selecting which payments to include. Keep in mind that some of these proformas will be handled and issued automatically by BX based on your settings (read the this articleof the documentation to learn more).
Late Fees advanced
WHMCS Late Fees, as you probably know, provide a few options: you can set a percentage or fixed fee, globally and without distinction. The old BX already handled Late Fees to give more options, it allows to define multiple fees levels, offering the possibility to set a fixed fee together with the percentage one. In the new Billing Extension we made a further step, now the fees can be global or specific for each product type (Domains, Products/Services, Others). In addition, the interface has been redesigned to become extremely easy to use, Late Fees at a glance (preview).
Renewals, next level
Renewals are now way easier to manage for your customers. We enhanced the Renewals page from BX to make it easier, now you can view, filter and sort the elements, and activate or deactivate autorenew for each of them. Everything is grouped by domain to make it clear and intuitive to browse (preview).
Invoice Sync
This feature allows you to share Invoice and Credit Note numbers across multiple installations of WHMCS. It was already part of BX but now we're working on making it more user-friendly (preview).
---
The new Billing Extension is about 70% complete. Presumably it will be ready at the end of summer. Stay tuned and don't forget that you can send us suggestions and request features.
Speak Your Mind
Cancel Reply