Change Your Business Details and Invoice Data in WHMCS
Change Your Business Details and Invoice Data in WHMCS

Written by Davide Mantenuto
Back
Posted on 1 september 2018 / Updated on 26 march 2021
Reading time 2 minutes
Preserving Business Details on Invoices
One of the many differences between proforma and invoice is that the latter, once issued, can't be updated nor cancelled. If you really have to apply changes to customer details, here is how to correct incorrect invoices.
In this article we focus on how you can change your company details from invoices.
Things like client's name, address, VIES and currency rates must be fixed to that in use at the time invoice or credit note was issued. What most WHMCS users forget, is that also your business details can't change.
The dynamic nature of business could bring you to relocate your office to a different address, city or country. Every day companies swicth from a sole proprietorship to LLC, they change names and even fiscal responsibilities.
Let us show you the example of a fictional successful company named ABC that starts from nothing and becomes something different.
| Timeline | Description |
| --- | --- |
| 2007 | Startup phase with office in Florence, Italy |
| 2009 | Business name changes to Dragon |
| 2010 | Switches from sole proprietorship to LCC |
| 2016 | Relocate office from Florence to Milan, Italy |
| 2018 | Moves to a fiscal haven in Canary Islands, Spain |
WHMCS is great to run a hosting company and can support you through all stages of business growth but it has many billing shortcomings. One of these is that all changes to company details apply retroactively. For instance, taking the above example, there will be five versions of invoices issued on 2007:
Business name ABC in Florence, Italy
Business name Dragon
Business type LCC
Milan, Italy
Canary Islands, Spain
You can prevent this billing nightmare from happening by using Billing Extension. The module "snapshots" your company details on invoices and credit notes so that there are no multiple versions of the same invoice.
Using Company Profiles
When you install the module, it creates a company profile starting from what's inside WHMCS (eg. Pay to Text, default country etc.) then it looks for the oldest invoice you have on your system. Once done, it applies the newly created company profile to all invoices.
You can freely apply changes and/or create new profiles from Addons > Billing Extension > Settings > Company Profile. The following image shows this page where we recreated the the scenario previosly described.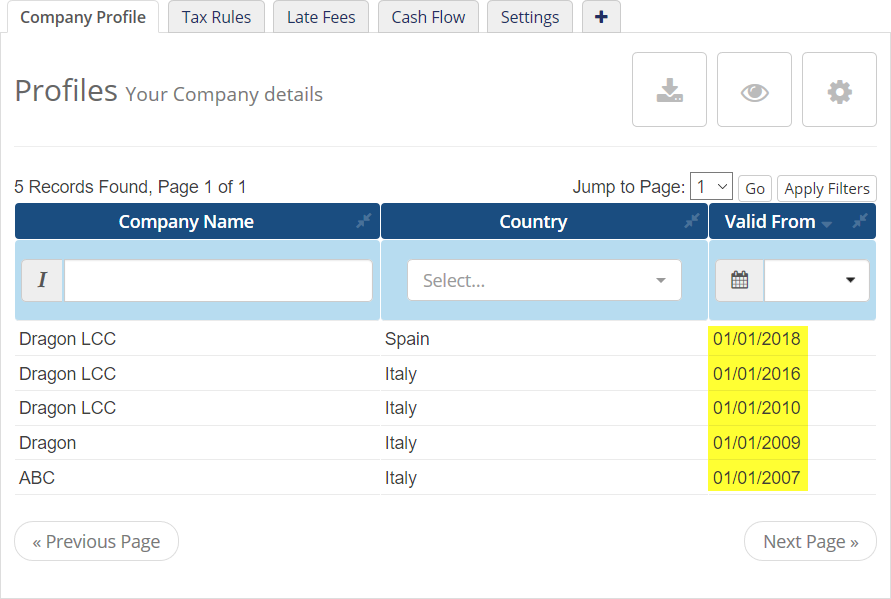 As you can see, each company profile has its own Valid From date meaning that they are used on invoices based on invoice date. But there's more. Here's the page from which you can add/edit profiles (click to enlarge).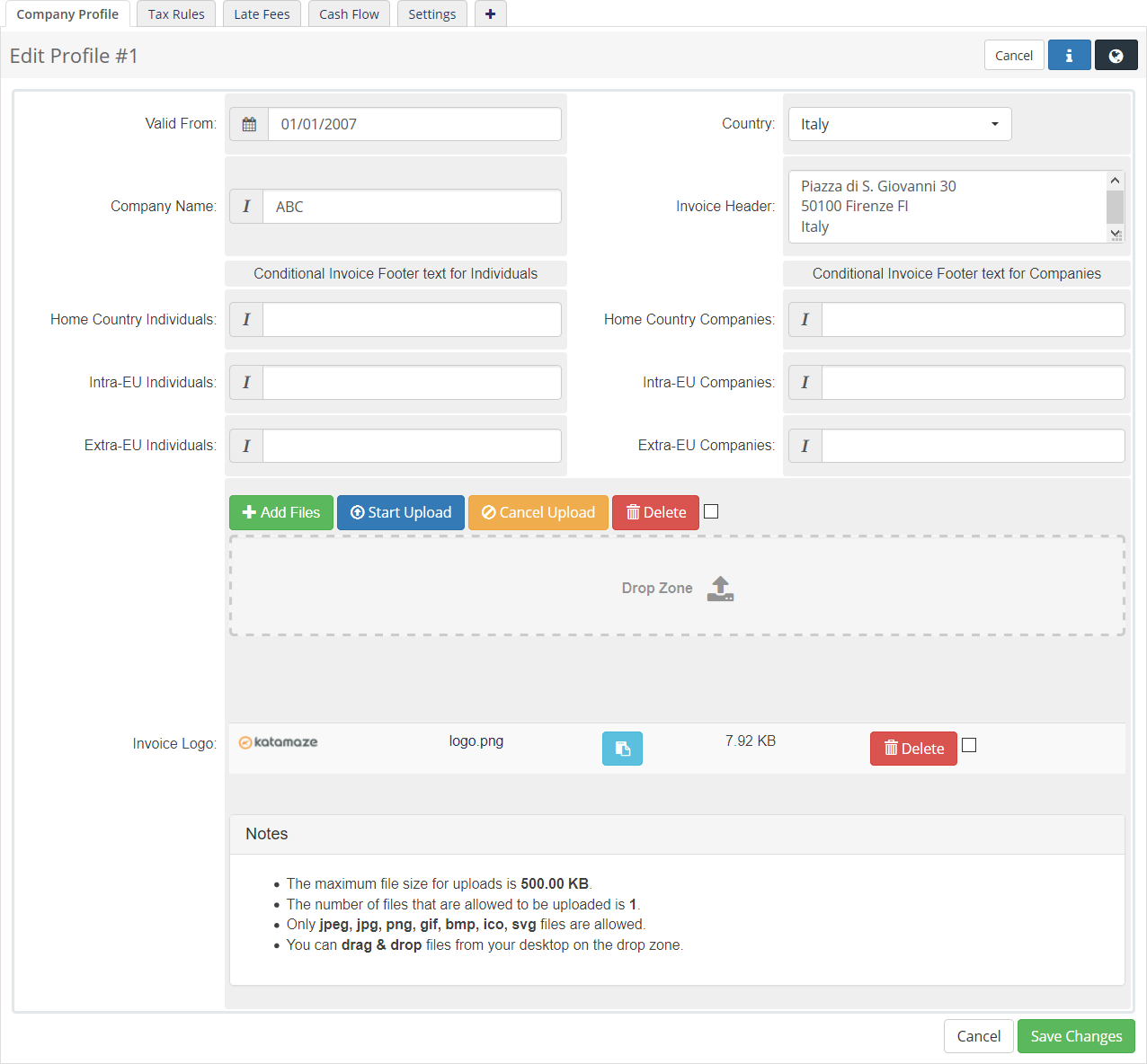 You can upload the logo of your company used for invoices. All it takes is a drag & drop. The intresting part is that the logo is part of company profiles. Just like business details the logo doesn't change retroactively. Now let's focus on this section.

Here you can define up to 6 conditional notes that appears on invoice PDF. This is particularly useful when you are required to place some notes on very specific invoices. For example you can place a note that appears only on Intra-EU invoices.
Speak Your Mind
Cancel Reply