Online Contract
Online Contract
Online Contract
Online Contract

Written by Davide Mantenuto
Back
Posted on 1 september 2018 / Updated on 15 october 2019
Reading time 1 minute
Introduction
Online contracting is an important part of every business that operates on the internet. It may seem obvious, but acceptance must be communicated not only when customers register or order a product but also every time your contract changes.
Billing Extension
 handles this process by redirecting logged in users to a dedicated page when consent is needed. On this page they can review your contract, accept changes or invited to close their accounts before the new contract becomes effective.
We underline that administrators can't accept changes on behalf of customers when they use Login as Client feature.
Revision Version
This number cannot be decreased. It can only go up and represents the current version of your contract. Every time you need consent from your customers, simply increase this number by 1. Customers who accepted a version number that is lesser than current version will be invited to accept changes or close their accounts. When a customer clicks I Agree, 
Billing Extension
stores in database the exact date and time of acceptance.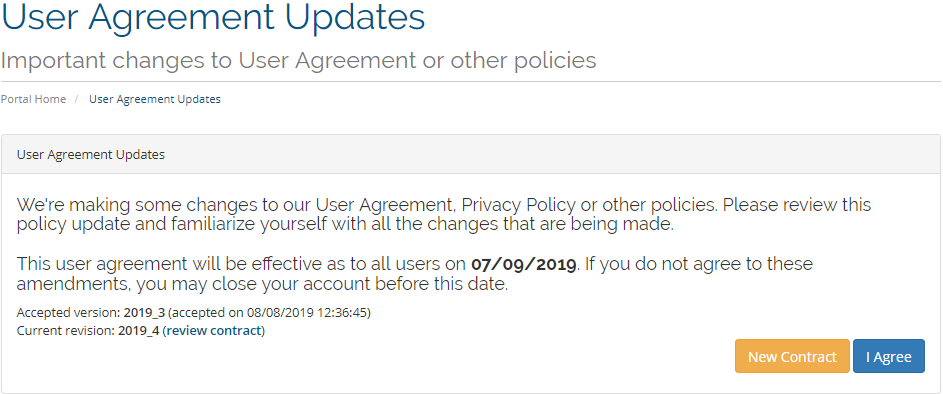 Expiration
This value corresponds to the number of days you want to wait before changes in your contract become effective. Let's suppose that you set this value to 30. Customers have 30 days to accept the new contract or close their account. We recommend you to give decent amount of time to avoid any potential claim of infringement of consumer code.
Speak Your Mind
Cancel Reply