VIES
VIES

Written by Davide Mantenuto
Back
Posted on 1 september 2018 / Updated on 15 october 2019
Reading time 3 minutes
VIES Support
VIES is a webservice provided by European Commission from which is possible to verify the validity of a VAT number issued by any Member State. Enable it if you are an European company. VIES and more in general this entire article does not apply to extra-EU companies.
Billing Extension
 verifies the validity of VAT Numbers provided by European customers when:
Customers register on your website
Customers change their VAT Number or Country from clientarea
Administrators update VAT Number or Country on behalf of a customer
Administrators perform manual checks
With Cron Job when the latest check performed against VIES is too old
It works in real time. The module also updates Tax Exempt status (Yes/No) depending on the response from VIES. This feature is bulletproof! It properly detects Intra/Extra EU, companies/individuals. It also identifies customers from your own country and handles them accordingly. Take a look at this animated gif to get an idea of how easily administrators can perform manual checks.

Here
you can find more details about information available in this panel. The same details are provided also to your users in clientarea. Below you can see how it works for them.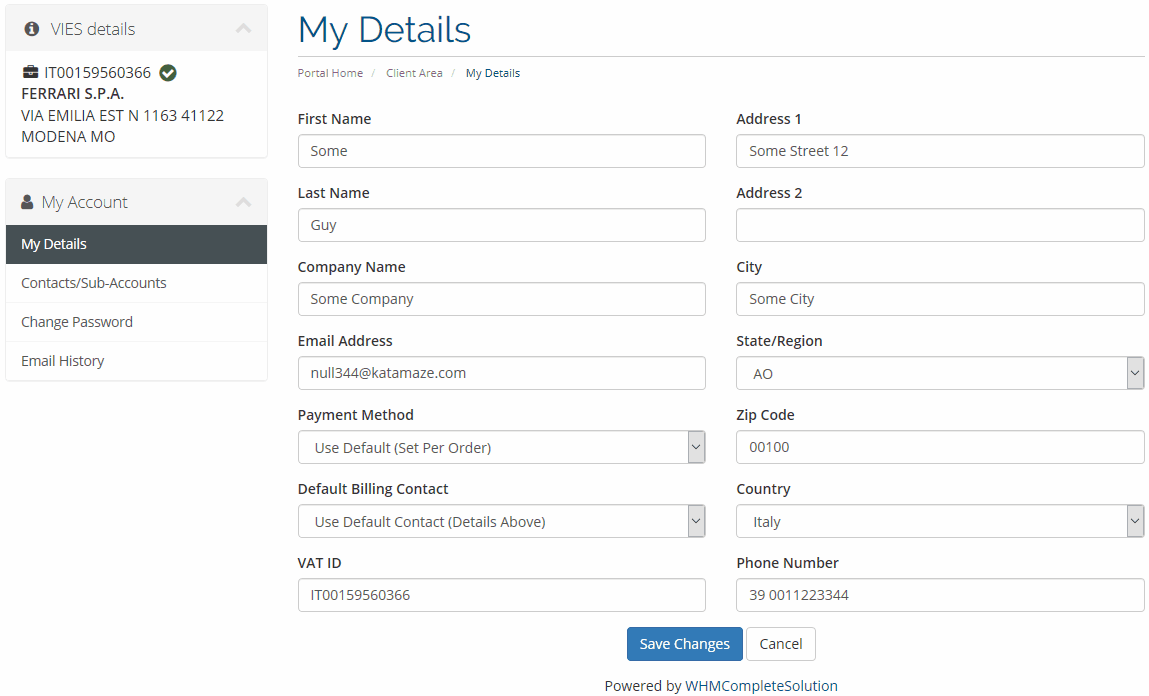 VAT Custom Field
To use VIES, 
Billing Extension
needs to know the Custom Client Field in which your customers specify their VAT numbers. If you can't find any option to select means that there are no custom client field that can serve this purpose. Create a new one from Setup > Custom Client Fields like follows.

Notice how
Show on Order Form
and
Show on Invoice
options are checked.
Required Field
must be unchecked since individuals and extra-EU customers are not supposed to fill this field. Please do not use different settings otherwise VIES will not work as expected.
Remember that checks against VIES database are performed only for European companies therefore this field can be used to store also VAT numbers of extra-EU customers. Lastly since customers don't write VAT numbers in the same format, 
Billing Extension
normalizes all information provided. All formats listed below are
interchangeable
and accepted:
IT01230456078
01230456078
IT-01230456078
IT 01230456078
VAT Exempt Status
We do not provide tax or accounting advice. You should consult your own tax, legal and accounting advisors before using this feature. In this section we focus on the pratical part giving you general information:
European Companies with valid VAT numbers are exempt from VAT
Individuals, extra-EU companies and companies from your own country are not exempt from VAT
VAT numbers are validated every time clients register or update their personal details and on a monthly basis
VAT exempt status is not permanent and can be lost over time. When it happens you and your client will receive a notification. In the meantime all subsequent proformas/invoices will go through with VAT applied
Even if a VAT number exists it doesn't automatically mean that it can be found on VIES. In fact companies have to explicitly request to be registered on this database
Companies that are not registered on VIES can't be exempt from VAT
For more information about VIES please refer to
VIES Enquiries
and
FAQ
section.
VIES Displaying on Invoices
To ease billing for you and your customers, you can enable this option to display VIES information directrly on PDF invoices (the box supports multi-language and can be customized). This is probably the dream of every European accountant. In fact thanks to this feature they no longer need to manually verify every VAT Number provided by customers to see if you applied them the correct Tax Exempt status.

The information box returns also invalid checks so that your customers can immediately notice it on invoices and update their details accordingly.

To enable this feature you also need to copy the
snippet code
provided in 
Billing Extension
and place it somewhere in your invoicepdf.tpl file. We suggest you to place it right above Notes and Generation Date sections.
Speak Your Mind
Cancel Reply