Low Balance Alert & Credit Balance in WHMCS Client Area
Low Balance Alert & Credit Balance in WHMCS Client Area

Written by Davide Mantenuto
Back
Posted on 5 october 2020 / Updated on 24 january 2021
Reading time 1 minute
Checking Credit Balance from Client Area
As mentioned in transaction history & credit usage in WHMCS client area, WHMCS doesn't offer the tools customers need to review their transactions and how they used their credit.
This time we focus on credit balance. The only place where customers can check their credit balance is from unpaid invoices. If they happen not to have any unpaid invoice, they can't check anything.
This completely kills user experience but there's a happy ending. Billing Extension not only adds credit balance in WHMCS sidebar but sends low balance notifications to customers.
Credit Balance Sidebar
Let's start from the following animated that gives us the opportunity show you the look of the sidebar and what features includes.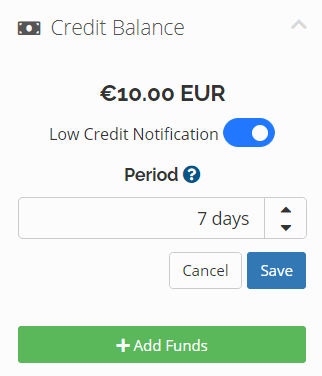 | Feature | Description |
| --- | --- |
| | Current credit balance |
| | Enable to receive email notifications when credit balance is not enough to cover expenses for upcoming renewals |
| | Low balance notification is not based on a fixed amount of money but on a period of time. We are going to descrive all details in the next chapter |
| | Customer can quickly add funds by pressing this button |
Low Balance Notification
Let's suppose a customer wants to take a vacation for 14 days. He doesn't want be annoyed with renewals, payments and deactivation of services/domains. All it takes is enabling the notification and setting 14 days as period.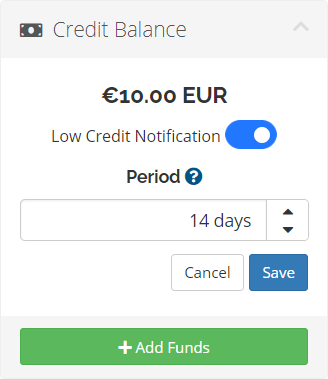 On save, Billing Extension verifies if there's enough credit to cover renewal costs for services/domains expirying within 14 days. If there's not enough credit he receives a notification via email that looks like follows.

The email is fully customizable from Setup > Email Templates. It shows the amount due within 14 days and current credit balance. This way customer can immediatelly add funds to cover expenses and enjoy the vacation.
The check repeats every time an invoice is paid with credit (full or partial payment). Obviously the module doesn't send the notification more than once per day as we don't want to annoy anyone.
Speak Your Mind
Cancel Reply