Multiple Attribution Models for Payouts to WHMCS Affiliates
Multiple Attribution Models for Payouts to WHMCS Affiliates

Written by Davide Mantenuto
Back
Posted on 3 august 2019 / Updated on 24 january 2021
Reading time 3 minutes
What is Attribution Model
An attribution model is a set of rules that determine how conversions (payments, signups and sales) is assigned to affiliates. Commission Manager has various models to choose from. In this article we're going to explain how to pick the right attribution model for your business.

Before we start, it is important to talk about some rules that the module follows:
Terminated affiliates don't get any reward
Commissions to suspended affiliates are granted but set as Suspended
Different attribution models can be used simultaneously
Cross-Affiliation is forbidden
First-Click
In this attribution model, each affiliate has an unique Referral Link that contains an Affiliation Code. Normally affiliates place such links on their websites or in marketing emails to promote your products. Visitors that click on a Referral Link receive a cookie that stores the Affiliation Code.


When a newly registered customer completes an order on WHMCS, 
Commission Manager
looks for this cookie on his computer and the affiliate that corresponds to that Affiliation Code gets credit for the sale. The cookie lasts for a certain number of days. This value can be customized but generally is set to 90 days.
Clicking on multiple Referral Links will not result in having multiple cookies and affiliation codes. Only the first link that has been clicked is valid untill its natural expiration. That's why this attribution model is named "First-Click".
Interactive
Unlike First-Click attribution where conversions are credited "secretly" from end-users that don't know anything about Referral Links, in interactive attribution it's all out in the open. At some point newly registered customers will be asked to select their sales representative from a list ("No sales representative" option is available). In other words customers decide who gets credit for the sale.
You can customize when 
Commission Manager
 asks customers to select their sales representative. Normally it's better to wait 7 days after the order has been completed but you can also choose to do it immediately as soon as the first payment has been received.
Manual
As the name suggests, this model allows to manually assign conversions to affiliates directly from Client Summary of WHMCS.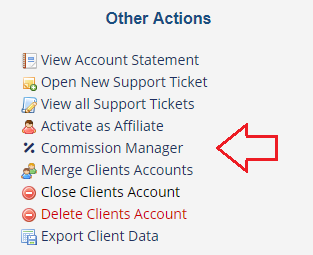 Generally you should always have this attribution model enabled since it serves many uses. For example it lets you handle situations where an affiliate promoted your business "offline". This way affiliates can claim their sales via ticket system or email and once approved they are awarded commission.
In order to avoid affiliates claiming sales made months or years earlier,
retroactive pay
comes to help. For example if you set retroactive pay to 7 days, 
Commission Manager
at the moment of manually assigning a customer to the affiliate, awards commissions starting from 7 days ago to current date. New orders work as normal. Alternatively you can also set this limit to zero. By doing that, the affiliate will not receive any commission for existing payments but only for new ones.
It is important to notice that manual attribution can't be used to override existing attributions since customers can't be simultaneously assigned to multiple affiliates.
Assign Commission on Invoices
You can manually assign commissions from Invoice view for specific invoice items. Take a look at this screenshot.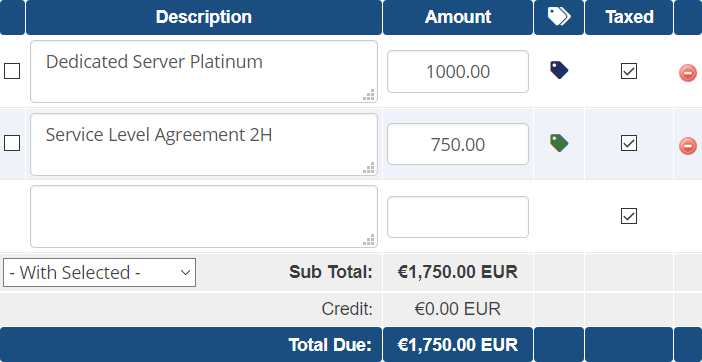 The module adds a new colum between Amount and Taxed columns. Clicking the icon shows the following modal on screen where you can define the terms and add notes for the affiliate. The "green" icon means that you have already awarded a commission for that specific invoice item. Clicking it opens details.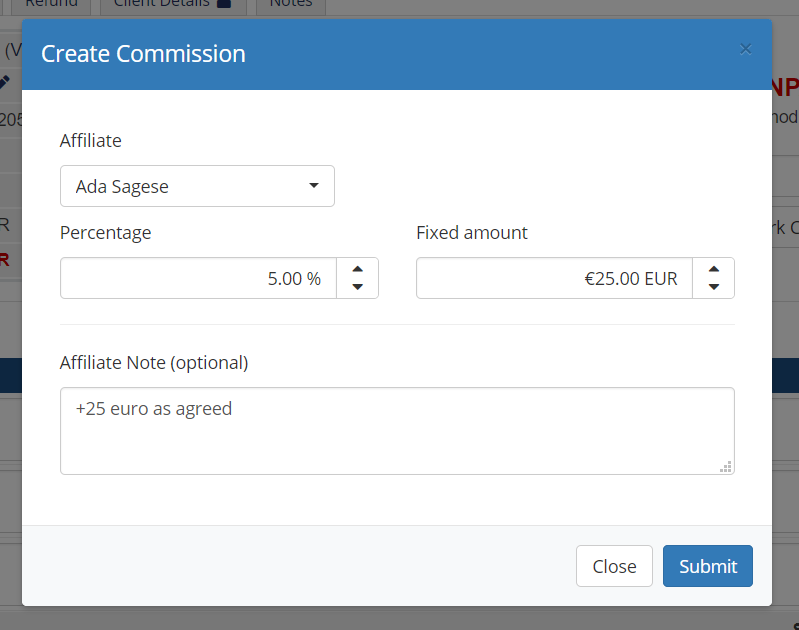 Cross-Affiliation
Cross-Affiliation is the act of exploiting affiliation softwares to get commissions that shouldn't be awarded. Here are some examples:
Affiliates buying through their own referral links
Affiliates exchanging Referral Links
Affiliates selecting with each other in interactive attribution
There are also other scenarios that are tricky to explain but let's just say as a general rule that orders made by affiliates will never award commission.
Speak Your Mind
Cancel Reply